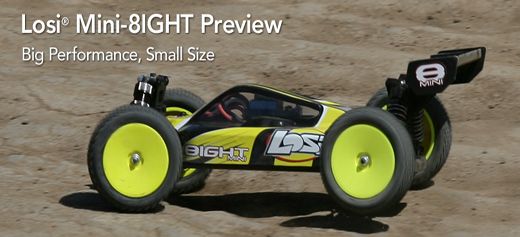 When it comes to 1/8-scale
off-road buggies
, few cars have had the success of the Team Losi Racing™ 8IGHT™
buggy
. We've seen the 8IGHT-platform re-imaged as the 1/10-scale TEN-T,
TEN-SCTE
and 810, and blown up in size for the
1/5-scale 5IVE-T
, but there's one scale that the 8IGHT has never been adapted to—the sub-1/10-scale. That is, until now. Losi has taken the 8IGHT-platform and seemingly hit it with a shrink ray to create what could possibly be the best-handling,
best-performing mini ever produced
—the Losi®
Mini-8IGHT
.
Combining the exceptional suspension geometry of the 8IGHT with an all-new electric-specific drive train layout that has been optimized for brushless motors means there's a lot of new development and design that has gone into the Mini-8IGHT. The
Mini-8IGHT
features super-thick, threaded body, aluminum, oil-filled shocks, a slipper clutch-equipped driveline, aluminum front and rear shock towers, a powerful 4500Kv brushless motor and a refined brushless ESC to make this one super performer. You may recognize Keith Whisler as the man behind such vehicles as the
XXX-SCB
and
Mini SCT
. He's back again, this time taking on the 1/14-scale
Mini-8IGHT
. We quizzed Keith on the ins and outs of the
Mini-8IGHT
, how it handles and how it will perform on-track.
You can also watch this awesome little buggy in action here: