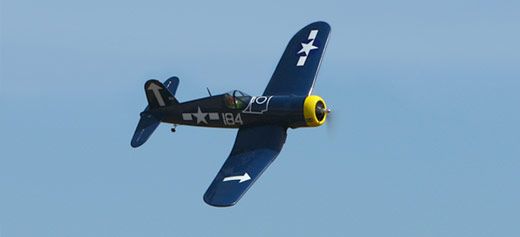 Hangar 9 is proud to present another legend in its lineup of Warbirds, the
Corsair 50 ARF
. The F4U Corsair, made famous for its ability to out climb, outrun or outfight any enemy in its day, is an exciting addition to the Hangar 9 family. Referred to as "whistling death" by the Japanese in World War II, and the "Sweetheart of Okinawa" by American troops, the inverted gull wing allowed for the huge propeller to clear the deck with its short, stout landing gear. Designed as a carrier-based fighter, it was also the first Naval aircraft to have landing gear retract flush into the wing behind panels for improved aerodynamics, and it was the first fighter to exceed speeds of 400 mph. Its successful reputation and unique flying characteristics have earned the F4U Corsair its place in American military history.
We talk in studio with Bill Brundle, Senior Product Developer with the Air Division about this new Corsair. He walks us through the features and great flying characteristics of this great new model. From a new size series to the optional rotating electric retracts he hits all the points that will show you why this model has to be in your hangar. So watch the video and see what the buzz is about with this
new Corsair from Hangar 9
.