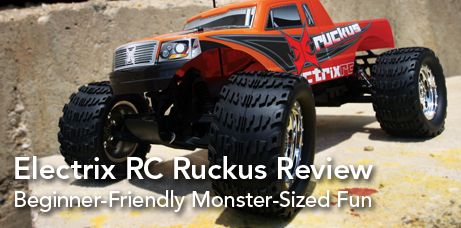 There are times when you want to go run an RC car or truck for the pure joy of running an RC car or truck. This allows you to forget about lap times, shock oils, gearing, tire inserts and just have fun. The
Electrix RC Ruckus 2WD Monster Truck
is a perfect example of a truck that is designed to simply be fun and durable. Much like its stadium truck cousin, the Circuit™, the Ruckus is designed for the beginner or casual RC'er in mind to be able to just have a ton of fun.
The
Ruckus
is a backyard basher through-and-through. The raised chassis allows it to get over obstacles that may hamper other trucks. The included 20T motor and 1800mAh Dynamite® Speedpack™ provides enough power to propel the
Ruckus
over the roughest terrain quite well. We charged up the stock battery and headed out to Eli Field to put the
Ruckus
through its paces. Between the different terrain options and the race track, we spent a pretty fun afternoon with the truck.

Speed Specs
Ruckus Monster Truck
Part Number: ECX2000 (Orange); ECX2100 (Green)
Vehicle Class/Type: 2WD Electric Monster Truck
Target Audience: Beginning and Casual Monster Truck Enthusiasts
Completion Level: RTR

Track Notes:
We've been waiting for the weather to break here, counting down the days to when we'd see temperatures over 50, no rain and winds to die down to under 40MPH gusts; it's been that sort of spring. Thankfully, we had a break in the weather and I was able to get out and thrash with the Ruckus.
Before I headed out, I only needed to do a minimum amount of prep work. Everything that I would need to get up and running came in the box including the battery pack, charger, transmitter and the AA's for the transmitter. I could have charged up the 1800mAh battery on my Dynamite Passport Ultra charger, but I decided to test out the included wall charger. After a few hours, the pack was completely charged and ready to roll. At the same time, I also charged up some extra 1800mAh Speed Packs to make sure that I would have an afternoon of fun ahead of me.
From the first squeeze of the trigger, the Ruckus didn't disappoint. It had a good combination of both bottom-end torque and top speed. I was even able to pop a few wheelies on high-bite surfaces. Whether I was running the truck on concrete, grass, gravel or dirt, the Ruckus felt at home in all environments and on all surfaces. I will admit to being a bit worried at how the Ruckus would handle taller grass as, while its motor is decent, tall grass could cause excessive drag that could hamper the truck. I was relieved that this wasn't an issue though, as the Ruckus was able to get over everything I threw in its way. I learned very quickly to not underestimate this truck.
The handling of the Ruckus was pretty good on all surfaces. Often 2WD monster trucks suffer from excessive chassis roll or don't handle all that well, but the Ruckus doesn't have this issue. The chassis stays relatively flat while cornering and doesn't traction roll at the rate that other trucks can. Yes, it is still possible to traction roll the Ruckus, but you really need to try. Overall, this is a very good driving truck.

Top Speed/Acceleration
The 20T motor that comes with the Ruckus is the same motor that comes with the Circuit. I am thankful to see that the guys over at Electrix RC dropped the pinion size a few teeth to compensate for the larger tires of the Ruckus. I'd say the top speed was right around 20MPH when I was making speed runs. At the same time, the acceleration was pretty good too, as the Ruckus was able to get up and over just about anything in its path. Now don't be confused, the Ruckus won't set any land-speed records, but it's fast enough to be fun for beginners, but not so fast that it would be difficult to control.

Handling
Monster Trucks aren't renowned for their precise touring, car-style handling traits, but the Ruckus is honestly better than many other trucks out there. The normal tendency of these trucks is for them to be overly top-heavy and to suffer from excessive chassis roll. While the Ruckus isn't a race vehicle, it really drives quite well and outperforms expectations. If you really push things, you can get the truck to step out or get a little tippy, but overall the Ruckus doesn't drive like a traditional high CG monster truck.
On the dry track at Eli Field, I will admit that the Ruckus was more challenging to drive due to the loose nature of the dirt and the hard packed surface. I could slide the rear of the truck around if I got on the power too hard (think of it as a drift car on dirt!). Power slides were fun and controllable, and, if I wanted to settle the truck down a bit, I think I could have by simply packing the gear diff with some thick grease, but I was having far too much fun driving to worry about wrenching.

Jumping
One of the main reasons to buy an RC monster truck is to try to emulate the look and feel of their full-size counterparts. Monster trucks are known for catching wicked air and crushing anything in their path, and an RC monster truck needs to be able to recreate as much of that as possible. The Ruckus is a brilliantly fun truck to drive and it begs to be jumped. The suspension is very plush and I never felt like the Ruckus had bottomed out or ran out of suspension travel. While the jumps at the Eli Field track aren't ginormous, they were well shaped and gave me the opportunity to air the Ruckus out quite well. Again, it never failed to impress as I traversed a variety of different obstacles and jumps. The Ruckus begged to be jumped over and over and over again.

Off-Power
The sealed endbell 20T motor that the Ruckus comes with doesn't have the strongest magnets out there and, as such, the Ruckus has a tendency to keep rolling when you get off the throttle. Tapping the brakes delivers an instant burst of reverse since there isn't a delay, and you cannot disable reverse. Around the track, I found this a bit annoying, but when I was just running around in the open lot or on the dirt mounds, I didn't notice it one bit. Again, this is not a race truck and not designed to carve tight lines—it's designed to be fun to drive. If you need to get off the gas to get around a corner, the truck "whoa's" itself down nicely and makes it easy to turn and continue rolling along.

On-Power
The power delivery of the Ruckus is smooth and easy to get acclimated to on just about any surface. It's absolutely possible to break the rear tires free on loose surfaces like the track at Eli Field, sand or gravel, and doughnuts are fun and repeatable because of this. When the time comes to simply get rolling forward, the Ruckus has plenty of forward bite to get you moving along in any direction you desire. The included tires are also a bit softer than I initially expected, which can only help, but still provides the forward and site bite that you'll need when you're out just having fun.

Out-Of-The-Box Setup
One of the things I have most enjoyed and appreciated about the Electrix RC vehicles, is just how user friendly and easy to use the vehicles are for the person with little to no previous RC experience. The Ruckus is no different as it comes out of the box ready for tremendous RC fun. The design of the Ruckus begs to be driven hard on a variety of different surfaces and locations. The stock setup is well suited and balanced to this application. As I've mentioned, monster trucks tend to get a bit tippy, especially when changing directions at speed, but the Ruckus seems to borrow quite a bit from its stadium truck cousin the Circuit, as this is perhaps one of the most sure-footed 2WD monsters I've driven. This, more than anything else, is why I think the Ruckus is such a good vehicle for beginners. Instead of having to learn how to drive and control the truck, you can focus on just having fun and learning the basics of driving an RC vehicle.

Conclusion
I wish that trucks like these were available when I got started. From the durable construction materials and design, to the overall performance and handling, the Ruckus represents a great first step for anyone to get into RC. Beyond that, it's the perfect vehicle to share your passion of RC with too. While I may not want to hand the transmitter of my 1/8-scale buggy over to my kids, I have no such worries about letting them drive the Ruckus. I know that, not only can the Ruckus withstand the lack of driving skill they have, but that they can handle driving the truck and not become frustrated.
The Ruckus reminds me of a game I might download for my mobile device (stick with me here, I promise it'll be good). See, if I want to really get a great gaming experience, I power up my big screen and my HD gaming system and become totally immersed in that world. However, there are times when I want to just go and chill and have fun. And while I still get somewhat into the game on my mobile device, I know that it's there for those bite-sized portions. The same thing applies to RC. If I want to get my hardcore RC fix, I have my race vehicles for that application. However, there are times when I just want to go and get my bite-sized RC fix, which the Ruckus does a tremendous job of. Whether the Ruckus is your first RC truck, your twenty-first, or your one-hundred first, it's one of those vehicles you can't help but have a good time with.