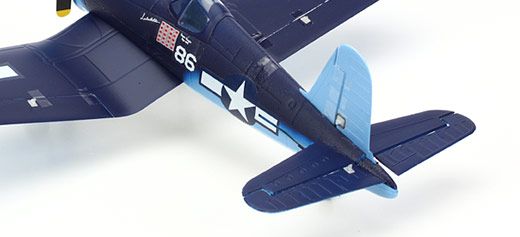 With a number of flights on your
Corsair
, you may find that perhaps it just doesn't look as nice as it did when it was new.
Corsairs
were the prize of the Navy and Marines back in their day, and should be one of your prize birds as well. A little battle-worn from those sorties out behind the tree or around the house, your
Corsair
needs to be ready for battle at a moment's notice. We'll walk you through what it takes to bring your Corsair back to life with new parts, a few basic tools and a few minutes in the shop.
Replacing the tail section on the
Corsair
is easy and only takes a few minutes to do. Follow these steps and you will have a new tail on that bird in no time - flying sorties and clearing the skies of any enemy micro warbirds in your neighborhood.