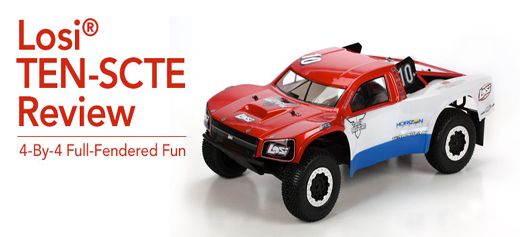 Since the arrival of the first 2WD short course truck, there has been a desire for 4WD versions. With 4WD you can generally go faster, hook up more power and can be easier to drive, but getting a 4WD short course truck that handles well, is fast and durable can be a challenge. The folks at Losi have stepped up to the plate with a new variation on their TEN-T platform called the
TEN-SCTE
. The rolling chassis combines elements of the
TEN-T
and
810
buggies with a new extended chassis, short course specific front and rear bumpers, and a new motor mount to make what has potential to be one of the best 4WD trucks out there. We were anxious to get some track time with this 4-wheeled wonder and the time has finally come. It's time to strap in and hold on because this is sure to be a wild ride.
Speed Specs
Manufacturer: Losi
Vehicle:TEN-SCTE
Part Number(s): LOSB0127
Vehicle Class/Type: 4WD Short Course Truck
Target Audience: Performance and 4WD Off-Road Enthusiasts
Completion Level: Rolling Chassis

Notes
As a rolling chassis, getting the TEN-SCTE up and running was fairly simple and straight-forward. I didn't have to do any final building or prepping of the chassis—simply paint the body and install the electronics. Since the TEN-SCTE does not include any electronics, I decided to turn to Team Novak and their Limited Mike Truhe Edition Havoc Pro SC and 4.5T Ballistic motor. This is a tweaked version of the original 4.5T combo that includes a larger 14mm rotor that provides greater torque and lowers the Kv rating slightly. Additionally, this combo also includes a 16-tooth pinion gear; the same size Mike used to win the Cactus Classic. It's a pretty cool setup. I also used a Spektrum DX3R PRO bound to an SR3520 receiver. For steering duties, I turned to the Spektrum SR6040 as it's been my go-to steering servo for some time. Finally, I needed a battery that would be up to the task of powering a 4WD short course truck with a hot motor like the Novak 4.5T Ballistic, and found the perfect one in the Losi Xcelorin 60C 6000mAh packs. These 4WDs draw a ton of current, which could potentially damage lower C-rated cells, but the 60C rating of these packs should be more than up to the task.

After spending some time talking to a few of the Losi team members, I did make two changes to the stock setup. The kit comes out of the box with grease in all three differentials. Looking for a more consistent feel on-track, I decided to flush the grease out and filled the differentials with genuine Losi Silicone Diff Oil instead. I filled the front diff with 5000wt oil and used 3000wt in the center and rear diffs. The other change I made was to the rear suspension mounts. I've been using a set of adjustable mounts on my 8IGHT-E lately and really liked them, so it's good that there's a similar setup now for the TEN-based platforms like the TEN-SCTE. In all fairness, I did set the mounts to the stock position, but reserved the right to change the anti-squat or toe-in later on.

Handling
It took me most of the first battery pack just to get used to the TEN-SCTE, but that wasn't because the truck didn't handle well. If you take someone who is used to running 2WD 17.5 classes and throw them behind the wheel of a dirt-throwing, rip-roaring 4WD beast, it's going to require an adjustment period. My first few laps found me over-jumping obstacles, over-driving corners and basically over-driving the truck around the track. Then an amazing thing happened. I started slowing down and backed off the throttle and the truck became easier to drive while turning faster lap times.

With the stock setup, I was a bit surprised how compliant the front suspension was. By that I mean the front end had a lot of travel going on both on- and off-power. I was able to take some of that out through the droop screws in the front arms, but I can see a possible spring and oil change in the near future. I may not be too quick to do this, however, as this additional travel also meant that the TEN-SCTE had a good amount of steering and I am not quite sure I want to hamper that at this point. We shall see.

The Losi gang has worked hard to get the handling of the TEN-SCTE right and they've done a pretty good job. From the box, the handling is relatively neutral with a hint of under-steer; something relatively common between most Losi chassis platforms. If I got on the power too hard I could get the truck sideways and crossed-up, but that was caused more by my getting overly aggressive with the throttle than anything wrong with the chassis.

Top Speed/Acceleration
The one thing about any 4WD chassis is that you can hook up a ridiculous amount of power and the TEN-SCTE doesn't disappoint. Granted, the Novak 4.5T had a lot to do with it, but the driveline and efficiency of the truck also has some say. When you grab a handful of throttle, all four tires claw angrily at the dirt beneath them as the truck launches forward. You definitely don't want to be in its way as it rockets away from you at top speed.

One of the nice things about the TEN-SCTE is that it accelerated so well that I didn't have to worry about carrying a bunch of roll speed through the corners. When you come to jumps or obstacles, you can simply roll up to them, blip the throttle and easily clear the jump in front of you. In-fact, the TEN-SCTE accelerates so well that you may find yourself over-jumping things if you over-power a jump. More on that in a bit.

Off-Power
One of the things the 8IGHT platform is so well-known for is how free-spinning the driveline is. Since the TEN-SCTE uses a scaled-down version of that driveline, it shares this feature with its larger buggy cousin. When you get off of the throttle, it seems like the TEN-SCTE rolls forever. Due to this, you may find yourself having to use more brake than you're typically used to, especially if you're coming to the TEN-SCTE from a stock or 17.5T-powered truck. If you try to rely on some sort of drag brake, you're going to find yourself in the fences when you go into a corner unless you dialed some into the transmitter or ESC. Once I adapted to this, I was able to get into the corners aggressively, nail the brakes, turn-in and get the truck pointed in the right direction. The compliant nature of the front end really helped pull the truck around the corners quite well and the rear end stayed right in line. Turn-in is also not a problem on this truck. I have to say, the Havoc Pro SC added to this performance as the brakes were smooth, powerful and consistent lap after lap. I'm also sure that the larger tuning rotor in the 4.5T Ballistic motor helped generate more stopping power too.

On-Power
When you get on the gas, as I mentioned above, the TEN-SCTE is a rocket. I did find myself looking for a little better steering on-power initially, but thankfully I was able to reach back to my touring car days for a solution. The TEN-SCTE, like touring cars, 1/8-scale buggies and 1/8-scale truggies, features droop screws in the A-arms. What droop screws do is provide an easy way to change the down-travel of your suspension arms without requiring you to add limiters inside your shocks. They're super easy to use and I was thankful they were here. An on-power under-steer, like I was encountering, is often a sign that there's too much weight being transferred to the rear of the chassis. An easy way to change this is to reduce the amount of down travel of the front A-arms by turning the droop screws in a bit. I turned each front droop screw in one full turn from stock, which made quite a difference. In the end, I took nearly 2-turns of down travel out of the front end to suit my driving style and the truck was much better on-power exiting corners.

Jumping
I've said it before and I'll say it again, the Novak Ballistic 4.5T motor is ridiculously fast, especially for someone like me who is more used to running 17.5T motors in 2WD vehicles. Because you have so much power on tap, you need to be more careful as you jump your truck. If you stay on the power too long or try to hit a jump with too much speed, you can easily find yourself in a nose-down tumble on the opposite side of the jump. The TEN-SCTE jumps with a bit of a nose-down attitude to begin with, and staying on the power too long once in the air or hitting a jump with too much speed can exaggerate this issue. Eventually, I found my rhythm around the track; rolling jumps more than trying to punch my way over them and focused more on trying to downside a jump versus simply clearing them. Again, once I slowed down I went faster.

Conclusion
The TEN-SCTE was absolutely worth the wait and I am excited to get even more running time with it. I ran about a dozen batteries through the truck on my test day and it came out relatively unscathed. I didn't install the fan on the Novak Havoc Pro SC ESC initially and the ESC went into a thermal protection mode during the first run, but I brought the truck into the pits, installed the fan, and never had another problem all day long. Consider that lesson learned. The other minor issue I ran into had to do with the motor mount screws vibrating lose on the last run of the day. I'll admit, I didn't check the screws as I ran so it's my own fault, but it was a bummer none-the-less. When I replaced the screws, I used a bit of Losi-Lok thread locking compound and haven't had an issue since.

The TEN-SCTE is an awesome 4WD short course platform and I was very impressed with it. A lot of the credit goes to the Novak Ballistic motor and Havoc Pro SC ESC, but the chassis itself is absolutely capable of running well on any track anywhere. It's well-designed and put together to take even my abuse! The stock Eclipse SCT tires hooked up better than I thought they would; I dare say I could race with these tires in more loamy conditions. The 8IGHT lineage was prevalent all-day-long and I was often reminded of my experience running my 8IGHT-E with the TEN-SCTE. If you're searching for a competition-level 4WD short course truck, your search just ended. I can see this truck winning a lot more races all around the world, leaving you with an important decision: race one...or chase one.