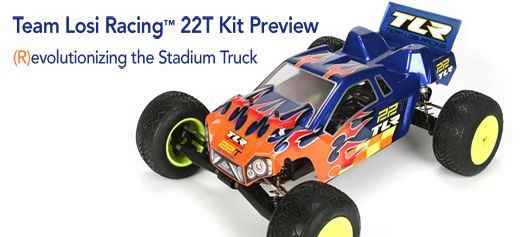 Team Losi Racing
completely changed the landscape of 1/10-scale
electric off-road racing
in December of 2010 with the debut of the
22
2WD
Buggy
. From its aluminum chassis, sliding rack steering system, big bore shocks and mid- or rear-motor configuration, the
22 RC Buggy
was dramatically different than anything else out there. Team Losi Racing has had a tradition of bringing out a buggy first, followed by a
stadium truck
shortly thereafter. Fast-forward 8-short months and Team Losi Racing is at it once again, this time bringing 22-style tech to the
1/10-scale Stadium Truck
class with the new
22T
.
The
22T
isn't simply a longer and wider 22
Buggy
, oh no, no, no. The 22T
RC Truck
represents a number of changes and refinements to TLR stadium trucks. Of course, you get the rear and mid-motor configuration options which debuted on the 22, but there's more here to help raise the performance to the next level. The
22T
uses a common wheel on each end of the truck thanks to a new bearing-supported front axle design. Other new features include a new front kick plate, longer truck-specific rear shocks and shock towers, new steering spindles and a lot more. We managed to catch up with the Team Losi Racing Development Manager, Todd Hodge, to pick his brain on this latest
stadium truck
from TLR. If you're into
stadium trucks
, this is one rig you'll definitely want to check out.