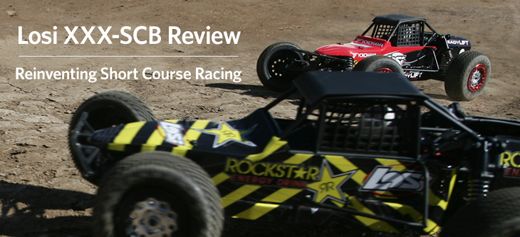 Short course trucks have reinvigorated the 1/10-scale off-road scene over the last few years, drawing more and more people into our wonderful hobby. Like anything that gets mega-popular though, you eventually reach a level where it starts to burn itself out or leave people longing for the next new thing. Losi is hoping to have the answer in something that is different enough to catch your eye, but still familiar enough to provide a connection to something wildly fun. I'm of course talking about the new
Losi XXX-SCB
, or short course buggy.
The
XXX-SCB
combines the looks and feel of a 2WD buggy with the size and handling of a short course truck. This is a combination that Losi hopes will help the appeal of this new platform as it shares most of its parts between both vehicles, making it easier for someone to own one of each and not have to carry around unique parts. The narrow chassis and lower profile front shock tower gives the
XXX-SCB
a different look and stance, along with the potential to provide a different feel in the steering department. I had a chance to drive one at RCX 2011 in Pomona and was really looking forward to heading to the track with one to test out. The wait is over as I now have a
XXX-SCB
of my own and am ready to hit the track.