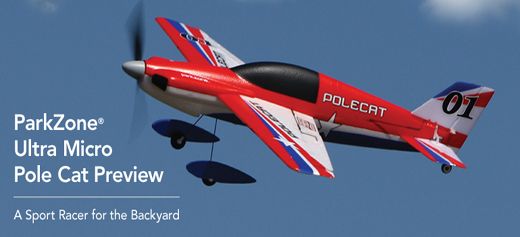 The
Ultra Micro Series Pole Cat
is modeled after the modifi¬ed Cassutt Formula 1 air racers that compete in the world famous Reno Air Race. It's been specially designed to deliver all the looks and thrills of these Reno speedsters yet remain as forgiving as any sport plane. Whether you're banking and yanking around the pylons with the throttle wide open, unwinding with some sport aerobatics, or simply shooting touch and goes, the Pole Cat is a joy to fly at any speed.
We meet with Seth Arnold in studio to look at the new
Ultra Micro Pole Cat
. This new racer looks great from any angle and really delivers in the air. From high banked turns to basic aerobatics, it has it where it counts. So take a look and see what the new
Pole Cat
from ParkZone is all about.


by John Redman, Horizon Hobby UK