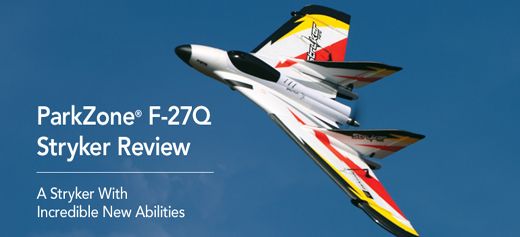 Designed by world aerobatic champion Quique Somenzini, the
F-27Q Stryker
delivers a thrilling blend of speed and aerobatic precision that's unlike anything else in its class. Its fiberglass-reinforced Z-Foam airframe has been designed to handle abrupt wing loading changes at high speeds. This, combined with its more powerful 480 brushless power system and twin rudders, gives you an extra dimension of aerobatic fun you won't find with any other flight-ready flying wing. Flat spins, blenders, snaps, knife edge—the
F-27Q
does it all with the same smooth, predictable handing that's made every
Stryker
a sport flying favourite.
We time the build and radio setup to see how long it takes to get us to the flying field. We show you some great flying footage and some of the maneuvers the new
Stryker
can deliver. After a few batteries at the flying field, we close up the review in studio. This is one hot model you want to grab up while you can. Nothing beats a
Stryker
!
by John Redman, Horizon Hobby US